Investing in & steering researchprojects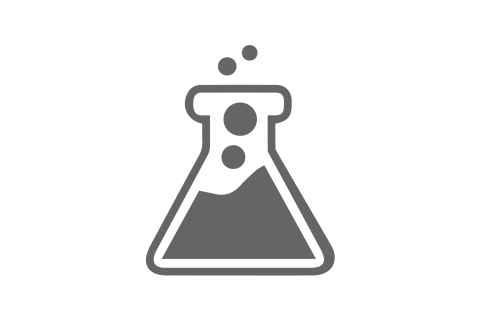 Selecting projects to fund
So far, all available Parkinson treatments are symptom treating: they help to (temporarily) hide the symptoms of the disease. In order to get to true breakthroughs, the Demoucelle Parkinson Charity support those projects that are disease modifying, projects that slow down or halt the progression of the disease, or even help to reverse the disease.
When selecting projects that can benefit from funding from the Demoucelle Parkinson Charity, Patrick and Anne-Marie favor European projects that are in or close to the stage of clinical trials (where treatments are tested on humans).
So far, the Demoucelle Parkinson Charity has invested in 9 promising projects.
Steering funded projects
We support exciting and promising disease-modifying projects in Europe in collaboration with the Michael J. Fox Foundation.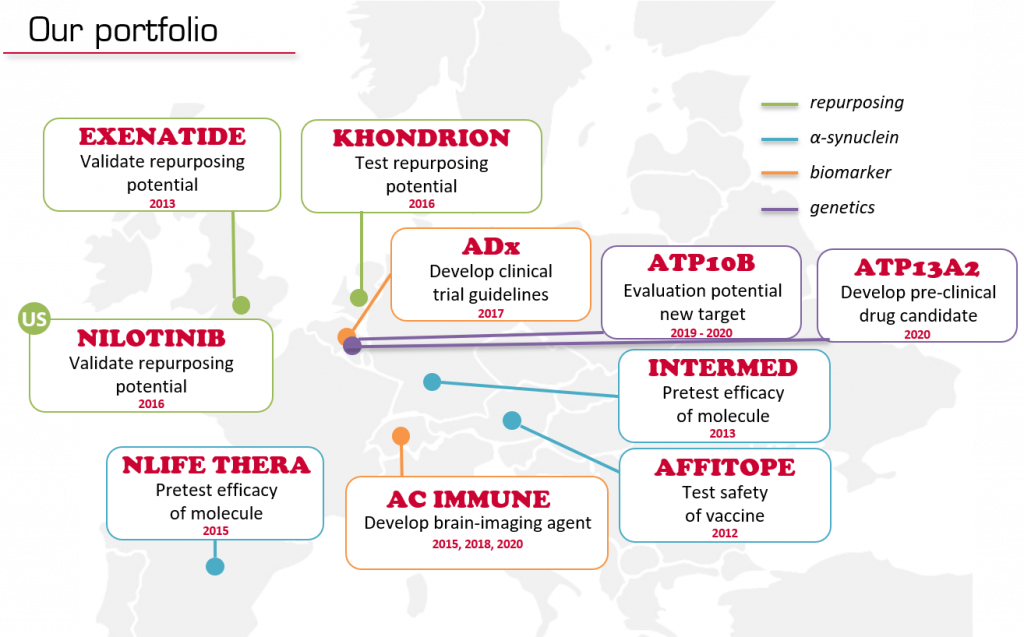 *** 25/11/2021
ATP10B
(DPC invested in 2019, in part together with Stop Parkinson)
Objective: better understand the mutation of this gene, and its potential impact on Parkinson's disease. Read more
Status: The results from this study indicate that recessive loss of function mutations in ATP10B increase risk for PD by disturbed lysosomal export of GluCer and PC. Better understanding of how ATP10B impacts GluCer homeostasis and other PD pathways is now part of an ASAP project. Furthermore, a drug screening program targeting ATP10B is meanwhile ongoing in collaboration with a company. 

AC Immune


(DPC invested in 2015 & 2018, in part together with Stop Parkinson)
Objective: develop a brain imaging agent for alpha-synuclein, a key protein involved in PD pathology. Watch our video  Read more
Status: The first grant in 2015 provided data to improve a second generation of compounds and the possibility to rapidly select additional development candidates for clinical studies. With one tracer showing promising results, a new study is underway with a fine-tuned version of this tracer and investigating another highly promising candidate.
ADx Neurosciences                                                                                                                                           
(DPC invested in 2017)
Objective: develop guidelines for clinical trials.
Status: The experimental component of this project is now concluded. The team is currently preparing a manuscript ranking the pre-analytical variables investigated for having an impact on alpha-synuclein measurements for both CSF and plasma, providing the community with an invaluable resource for planning future clinical studies measuring total alpha-synuclein. 

Nilotinib

                                                                                                                                                     
(DPC invested in 2016 & 2017)
Objective: check whether the effectiveness of the medicine, shown in open trials, is confirmed in a large double-blind, placebo-controlled trial. Read more. Further info.
Status: Lack of biomarker results, combined with efficacy data trending in the negative direction. Nilotinib not considered right drug to pursue.
Khondrion                                                                                                                                                           
(DPC invested in 2016)
Objective: test the effectiveness of a molecule against the mitochondrial dysfunction, often noted in Parkinson's Disease. Read more
Status: The results were positive for behavior and mitochondrial content but inconclusive for determining if KH176 is neuroprotective. Another study is underway to investigate the neuroprotective properties in a different animal model.

nLife Thera 
(DPC invested in 2015)
Objective: characterize the dose and efficacy of a new molecule in a model of Parkinson's disease vs a healthy model. Watch our video  Read more.
Status: The compound was able to reach the brain and the targeted areas intranasally in a relatively short period of time, and was able to reduce alphasynuclein mRNA in an animal model of Parkinson's disease.
Exenatide
(DPC invested in 2013)
Objective: perform a randomized, double-blind, placebo-controlled, proof-of-concept trial to confirm whether the preliminary findings of beneficial effects seen in both motor and non-motor PD symptoms can be replicated. Read more
Status: Research supported by DPC helped provide data that made it possible to launch current phase 3 study that is currently recruiting with an anticipated conclusion date in 2024.
InterMed
(DPC invested in 2012).
Objective: identify the potential of a molecule to be neuroprotective and become a disease-modifying therapeutic. Read more 
Status: Results showed sensitivity representing an issue for chronic application of the treatment and suggested a safe therapeutic window may not be possible. The project was terminated.
Affiris: The Affitope Parkinson Vaccine
(DPC invested in 2012)
Objective: perform first phase clinical trial and check impact of the vaccine on α-synuclein, a brain component that plays a central role in the pathogenesis of Parkinson's Disease. Watch our video Read more
Status: Affiris announced positive results from their Phase 1 trial. Phase 2 expected to start shortly.
The Demoucelle Parkinson Charity receives frequent project updates and participates in project check-in calls and in-person project assessments organized by staff of the Michael J. Fox Foundation.