Investing in & steering researchprojects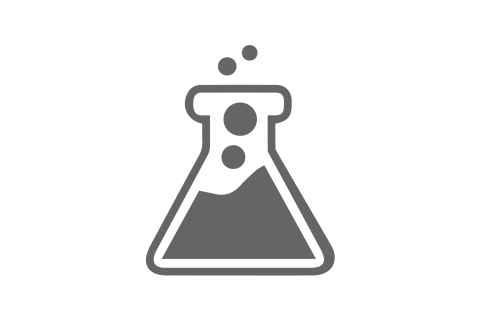 SUPPORTING DISEASE-MODIFYING RESEARCH PROJECTS
Currently, all available Parkinson's disease treatments are focused on alleviating symptoms i.e. they help to (temporarily) reduce/manage the symptoms of the disease. In order to achieve a real breakthrough, the Demoucelle Parkinson Charity supports research that aims to modify the disease i.e. slow down, halt or even reverse the progression of the disease.
When selecting projects to support, the Demoucelle Parkinson Charity favours European projects that are in, or close to, the stage of clinical trials (in which treatments are tested on humans).
So far, the Demoucelle Parkinson Charity has invested in 12 promising projects. For more information, see below.
INSPIRING THE NEXT GENERATION OF RESEARCHERS
The Demoucelle Parkinson Charity also wants to inspire young researchers in Belgium to pursue their studies and potentially their future careers in investigating Parkinson's disease. To this end, the charity offers:
An annual prize for the best masters thesis addressing any aspect of Parkinson's disease – diagnosis, impact, care, treatment or cure.

Open to all students at Belgian universities and across all disciplines. (Click here for the application rules and process to be followed.)

A PhD fellowship for a doctoral scientist researching an aspect of Parkinson's disease that could further understanding of the disorder and lead to a cure. Awarded every two years.

Open in 2023, in collaboration with The Research Foundation - Flanders (FWO),

 

to biomedical researchers affiliated to Flemish universities who apply for a PhD fellowship fundamental research or strategic basic research.

(Click here)
Open in 2025 to biomedical doctoral students at Belgian French-speaking universities.
Steering funded projects
We support exciting and promising disease-modifying projects in Europe in collaboration with the Michael J. Fox Foundation.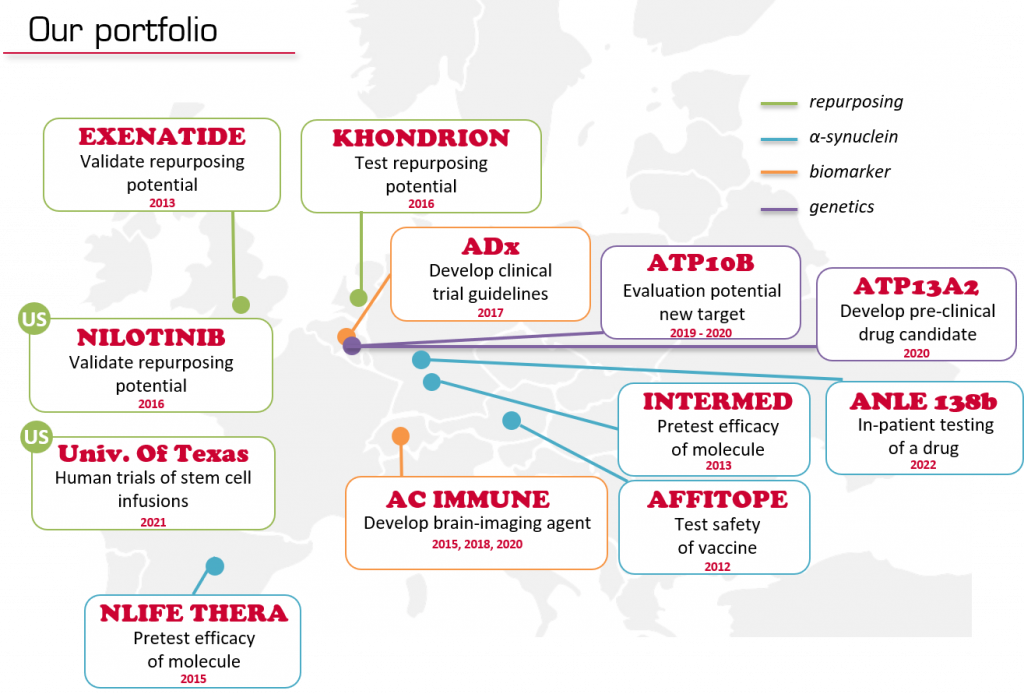 InterMed
(DPC invested in 2012).
Objective: identify the potential of a molecule to be neuroprotective and become a disease-modifying therapeutic. Read more 
Affiris: The Affitope Parkinson Vaccine
(DPC invested in 2012)
Objective: perform first phase clinical trial and check impact of the vaccine on α-synuclein, a brain component that plays a central role in the pathogenesis of Parkinson's Disease. Watch our video Read more
Exenatide 
(DPC invested in 2013)
Objective: perform a randomized, double-blind, placebo-controlled, proof-of-concept trial to confirm whether the preliminary findings of beneficial effects seen in both motor and non-motor PD symptoms can be replicated. Read more
nLife Thera 
(DPC invested in 2015)
Objective: characterize the dose and efficacy of a new molecule in a model of Parkinson's disease vs a healthy model. Watch our video  Read more.
AC Immune


(DPC invested in 2015 & 2018)
Objective: develop a brain imaging agent for alpha-synuclein, a key protein involved in PD pathology. Watch our video  Read more
Khondrion
(DPC invested in 2016)
Objective: test the effectiveness of a molecule against the mitochondrial dysfunction, often noted in Parkinson's Disease. Read more
Nilotinib
(DPC invested in 2016 & 2017)
Objective: check whether the effectiveness of the medicine, shown in open trials, is confirmed in a large double-blind, placebo-controlled trial. Read more. Further info.
ADx Neurosciences
(DPC invested in 2017)
Objective: develop guidelines for clinical trials.
ATP10B
(DPC invested in 2019)
Objective: better understand the mutation of this gene, and its potential impact on Parkinson's disease. Read more
ATP13A2
(DPC invested in 2020)
Objective: To develop a pre-clinical drug candidate   Read more 
University of Texas
(DPC invested in 2021)
Objective: To carry out human trials to test whether multiple intravenous infusions of mesenchymal stem cells will significantly slow the progression of Parkinson's disease. Read more 
Modag Anle 138b
(DPC invested in 2022)
Objective: Further in-patient testing of a drug targeting the buildup of protein alpha-synuclein in the brain. Read more
The Demoucelle Parkinson Charity receives frequent project updates and participates in project check-in calls and in-person project assessments organized by staff of the Michael J. Fox Foundation.
Please click here to read updates on our projects (December 2022).