Patrick's Story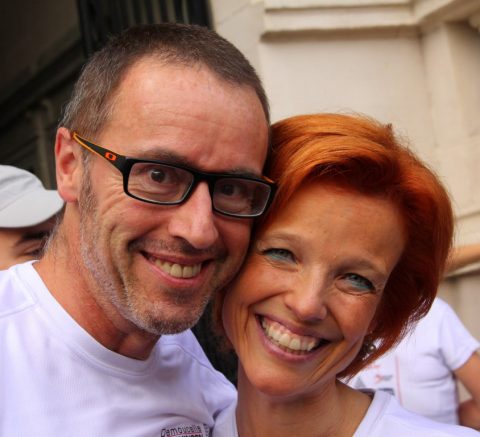 A TRIATHLON AFTER 18 YEARS WITH PARKINSON'S DISEASE.
"I may not control my body, but I do control my dreams."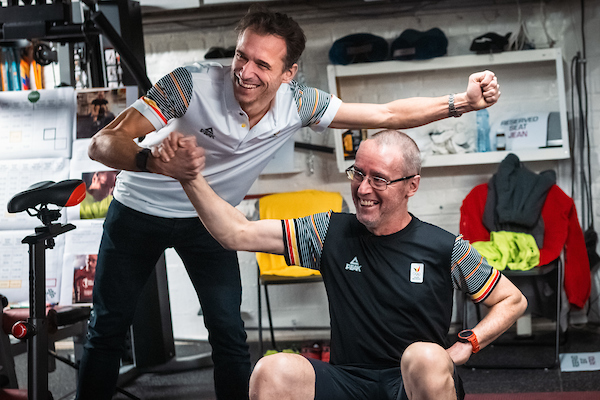 In 2023, after 18 years of living with Parkinson's disease, Patrick Demoucelle set himself an incredible challenge: to complete an indoor triathlon. Supported by friends and family along with Belgian Olympic and Interfederal Committee CEO Cédric Van Branteghem, Patrick achieved his goal in less than two hours! Wearing a different Team Belgium t-shirt for each of the three stages of the DO-IT challenge, Patrick achieved a faster time than he had hoped and was delighted by his result, saying afterwards:
"No human is limited!" 
He hopes to inspire others to "dream big". 
To find out more about Patrick's DO-IT! challenge, please click here.
Patrick's testimonial & vision…
An extract from a speech given by Patrick on December 18, 2010
"During the Greek and Roman periods, it took over a century to double the amount of knowledge in the world. After the industrial revolution: just 25 years. Today, experts believe it takes just over a year, actually closer to 1.5 years to double the amount of knowledge in the world. In April 2015, it will take just a day. Every day. So by 10PM on the 18th of April 2015, it will take 3 minutes to double the amount of knowledge in the world. Every 3 minutes! And on April 19th, 2015, at 7AM, boom…
 … I will wake up and it will be my 50th birthday. It will just simply be my 50th birthday. And I don't give a damn about the speed of doubling the knowledge in the world! The only thing I will care about on that day is: have they finally found a solution for Parkinson's Disease? Because, 19th April 2015 will not only be my 50th birthday, it will also mark the 10 years since I was diagnosed with Parkinson's. And if I believe the statistics that I read, by then my situation will be extremely urgent. I might not have much time left. 
"That is why I am embarking on this new chapter of my life. Leaving a successful business career to follow my calling. Because I want to spend the next four years, four months, and four days, working on… guess what… doubling the amount of knowledge in the world!
But in one specific area: how to find a cure for Parkinson's. So that, on April 19th 2015 at 7AM, I will wake up and it will be my 50th birthday, but not simply my 50th birthday. I will look myself proudly in the mirror and say "I made the right choice back then. And I am now the first person ever, on earth, in history, who has been cured of Parkinson's" (and even if I am the second or third, I will still be very happy!).
So, today marks a new chapter in the story of my life. It is a story of fear. And, it is a story of hope. But let me leave you with this thought: whenever there is a story of fear and hope, there is a heart that is beating. A heart that is beating…"
"Suppliers of Positive Attitude":
the inspiring story of the Demoucelle's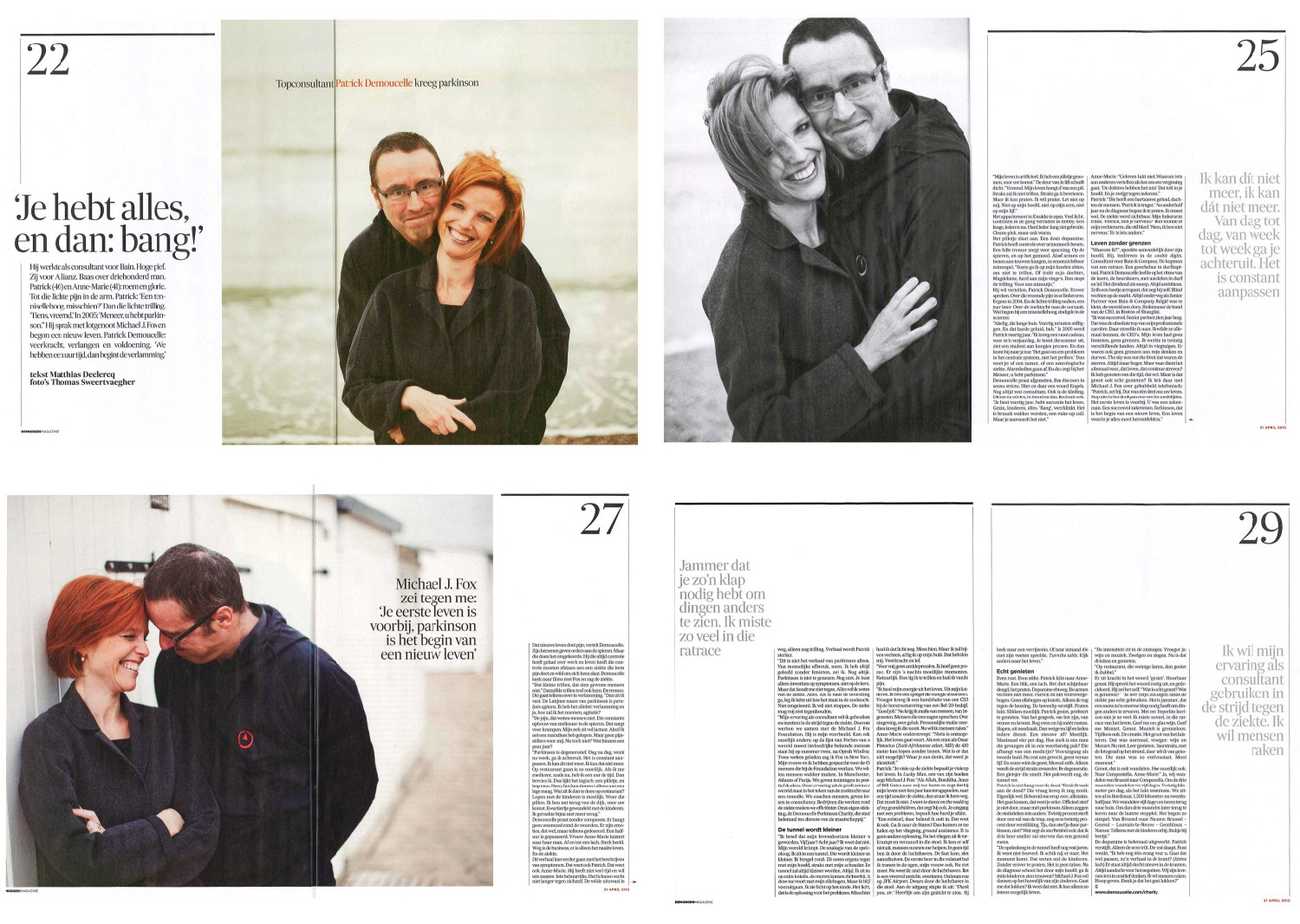 De morgen, April 2012
Nothing is certain. At one moment you feel the wind on your face, you enjoy life, you feel happy … and then something turns your life completely upside down and there is no balance anymore.
My fortieth birthday wasn't looking so good. The results of the nuclear magnetic resonance scan that I had undergone showed that I had early symptoms of Parkinson's Disease. The assistant who had carried out the examination gave some information. "It is a degenerative disease, Mr Demoucelle. Your brain isn't producing enough dopamine, which particularly affects the coordination of movements. Typical symptoms include a tremor, slowness and stiffness. Since it is a degenerative disease, your condition will not improve. So far there is no cure. Normally this is a disease of old age. It is rare in people of your age. While you can't die of Parkinson's disease, the mortality rate in patients with Parkinson's is three times higher than other people." Of course, we did not celebrate my birthday. Parkinson's turned our lives completely upside down. You don't expect as someone in their forties to suffer from a type of "old age disease". We struggle with it every day – but we're not going to sit and wait. We have chosen to approach this disease with a positive attitude and to live our lives in that way.
We have made choices and taken a new path. We have set up our own business to help others how to positively approach their life and to coach them. With our book [Positif] we want to share our experience and give advice on living a positive life to a larger audience. It is not enough just to adopt a positive attitude, you also have to justify it. This book explains the building blocks with which you sustain positivity, and how you do it.
Meanwhile, my fiftieth birthday is coming and this time we do plan to have champagne popping and make it a big event. Not because I'm cured from Parkinson's (yet), but because we have chosen to live positively.
Enregistrer
Enregistrer
Enregistrer
Enregistrer
Enregistrer
Enregistrer
Enregistrer
Todd Sherer's foreword
to Demoucelle's book "Positive"
I first met Patrick and Anne-Marie about four years ago when Patrick, who had worked at Bain & Company at one point, reached out to a colleague of mine at The Michael J. Fox Foundation for Parkinson's Research (MJFF), who had also worked for Bain.  I didn't know then that our first encounter would evolve into a close relationship through which I had the privilege of seeing first-hand the generosity, optimism and courage exhibited by Patrick and Anne-Marie.
Patrick had been diagnosed with Parkinson's disease (PD) right around his 40th birthday.  By the time we met, Patrick had been living with PD for several years and was seeking to learn more about Parkinson's research and potential new PD therapies in development.  Our first interaction set the course for all future interactions; a meeting that was scheduled to last an hour lasted about four, as Patrick and Anne-Marie jumped deep into the science with informed questions about the state of research and the reality of drug development.  But what was more striking for me was watching how they chose to take the reality of living with PD, which can be difficult and frustrating, and used it to make a difference. Leveraging their extensive management experience, they soon formed a new consulting company dedicated to helping individuals and organizations reach their full potential through leadership training and skill development.
In typical generous style, Patrick and Anne-Marie soon offered to travel to the United States to conduct seminars and trainings with our Foundation's staff. What was so striking was how in sync their message was with the MJFF culture. When Michael J. Fox founded the Foundation he did so with the goal of getting improved treatments to PD patients.  Inherent in our DNA is positivity and optimism – drug development is complex, lengthy and marked with many failures.  Yes, over 10 years since our founding, we still believe and we know that we will support and accelerate the development of new therapies that PD patients need.  We are objective about supporting different approaches and embrace risk to try to get the highest rewards and through it all, we share our optimism with the PD and general community that we are getting closer to our mutual goal of new therapies.  
Patrick and Anne-Marie fully embody the
POOOSITIVE
way of thinking and are the best teachers of leveraging that approach in one's personal and professional life.  They have become close friends, and with each phone call or meeting, I continue to learn from them  how our Foundation can go deeper in applying objectivity, open-mindedness and optimism to be better at what we do. Our staff has grown through their teachings and, they continue to help us reach ever closer to realizing our full potential as individuals and as an organization.  Each interaction with Anne-Marie and Patrick has been insightful and inspiring to me and I have no doubt that their
POOOSITIVE
approach will inspire countless others.
Todd Sherer, PhD
Chief Executive Officer, The Michael J. Fox Foundation for Parkinson's Research
January 2014