On March 23, Alexander Meulemans organized a wonderful benefit concert in favor of the Demoucelle Parkinson Charity: Music for Parkinson. He raised no less than € 5000! The Kosmo Quartett played with Sarah Bayens, Magdelaine Demoucelle played the piano and Alexander on the viola was accompanied  by Lucas Verleyen on his piano. Who is Alexander and why did he take this super initiative? Read it here.


Tell me about you, your hobbies, your background…
I just moved to Switzerland to pursue one of my great passions: scientific research. I started as a researcher at the university ETH Zurich to understand the interfaces between artificial intelligence and our own brains. My other great passion is music. Since I was 4 years old I have been playing the viola in the viola school 'Altelier'. That is where I had my first music chills. I can't get enough of making music with others! In the meantime I have also learned to play the guitar and the piano in order to be able to switch between instrument and music style.
I combined my engineering studies with a bachelor's degree in music for a year so that I could get lessons from Marc Tooten, from whom I learned a lot. Besides my musical hobbies and my love for science, I can also enjoy a good book or a nice walk in nature (the Swiss Alps are really beautiful).


How did you become a Demoucelle Parkinson Charity (DPC) supporter?
My parents have been good friends with Patrick and Anne-Marie [Demoucelle] for many years and a few years ago they started running for the 'Run for Parkinson' of the DPC. Together with my brother and sister we searched for sponsorship for this fantastic event.


What do you/have you just done for DPC? What motivated you to do this?
When my dad passed away after a serious illness, Patrick and Anne-Marie offered us a lot of warmth and help. I wanted to give something back to thank them. Their beautiful charity seemed the perfect opportunity to do so. However, running is not one of my talents, so instead of taking part in the Run for Parkinson's, I decided to take a different approach and set up a new project. Together with my mom I organized a benefit concert 'Music for Parkinson' for the DPC. My mother took care of the organization, while, with the help of some friends, I took care of the musical program. Together with Lucas Verleyen, the Kosmo Quartet, Magdelaine Demoucelle and my sister Justine we played two concerts for an audience of about 50 people. All income was for the DPC. We hope to make the 'Music for Parkinson's' an annual tradition.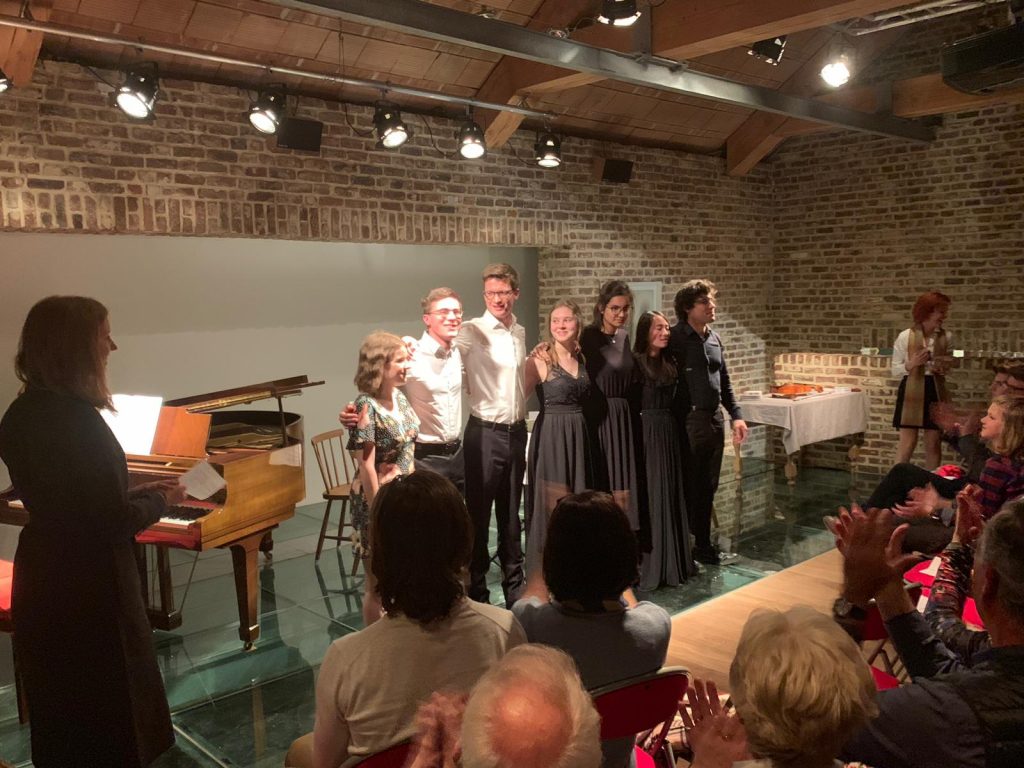 What feeling does it give to you?
I just love making music together with other people and being able to do this for such a beautiful project as the DPC completes the picture. I really enjoyed it and I hope the audience did enjoy too!


What keep you motivated on tough days?
I have inherited the positive view of my dad's life and that is my greatest strength. Every day, no matter how difficult it is, there's something positive in it and when you draw strength from that positive, you can deal with the difficulties just that little bit better. Often a smile can work wonders!


What's your favourite quote?
I'm not really a quote person, but after some research on Google I found one that suits me.
"Not all those who wander are lost" – J.R.R Tolkien


Sometimes I can be rather chaotic, chasing my dreams, but that's also the source of my creativity. Sometimes you have to dare to take a path that you don't know where it leads to. The road itself is what it's all about and as long as you realize that, you're never lost!


What else do you want to share with the readers?
If you have children, consider offering them music classes. It's the biggest gift my parents gave me! And furthermore, smiling makes you happier (it works in two directions)!