Could you start by saying something short about yourself?
64 years old, entrepreneur
2 daughters and 4 grandchildren
Hobbies: golf (hcp 16), marathon runner (15 marathons run: NY, Chicago, Berlin, Athens, London, Brussels), wine and cigar lover.
You were told two years ago that you had Parkinson's disease. What was your reaction?
Shit!
Were you alone or accompanied on the day of diagnosis?
I was with my dear wife.
How was the announcement to the family?
Very calm.
What can't you do as before?
I can do practically anything, but I know that it won't last forever.
In addition to the symptoms of the disease, have you personally changed (character, state of mind, …)?
I am grateful for every beautiful day.
Do you feel well heard and well cared for in Belgium?
Yes.
Recently, you decided not to just sit back and to do something yourself. Why this reaction?
I am an 'entrepreneur' and cannot accept that Big Farma is increasingly withdrawing from research into Parkinson's disease.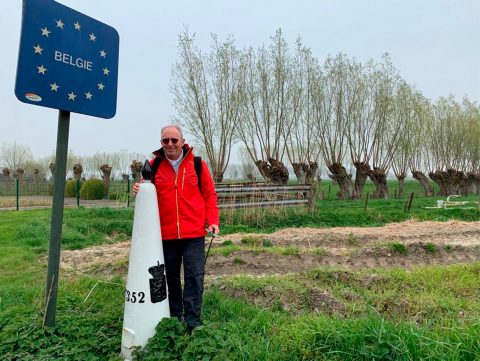 It immediately became a major initiative – the Stop Parkinson Walk. Can you tell us more about this walk?
From 23 August to 10 October 2020, together with four friends, I will walk along the Belgian border, from border post to border post, non-stop, for 49 days every day for 30 km. In total, the hikers will travel 1,500 km to attract attention and raise money for research for Parkinson's disease. A journey to explore and push the boundaries. The one-day-trippers on the Belgian coast can reach up to 10,000 people a day.
How did you come up with the idea of organising such a Tour of Belgium?
My former neighbour did this 50 years ago. And given my illness, I want to organize this unique trip with friends quickly.
You want to support Parkinson's research through this initiative and decided to work with the Demoucelle Parkinson's Charity (thank you for that!). Why the decision to support Parkinson's research?
I want to make sure that the millions of Parkinson's patients urgently get medication to be cured.
You also enter into partnerships with companies. Can you tell us more about that?
We are entering into many partnerships with Rotary Clubs, but the main partner is Rotary Club Brussel Coudenberg. The other Rotary Clubs mainly offer accommodation. In addition, we have corporate partnerships with Ageas, KPMG, Golazzo, Energy Lab, the Loopcoach, and Bank Degroof-Petercam.
It will be a major initiative that requires a great deal of manpower. And apparently you are prepared for that. Because if we have understood correctly, you have a whole team of volunteers working with you. How did you bring them together? And what makes them so fascinated to work on this initiative?
I've brought all these people together because they have a big heart.
What are your goals?
Give more visibility to Parkinson's disease. There is too much reluctance among patients today.
When will you be satisfied?
I am already satisfied with the massive support of friends, in and around my organisation. But I also hope that the media will pick up our story, that we will exceed 1 million euros, and that I myself (and the millions of others) will heal in time from this disease.
Is there anything that people can help you with now?
We are still looking for many partners and sponsors in companies, associations and service clubs, preferably before the end of 2019. On 9 April 2020 at 11 o'clock we will launch our project on World Parkinson's Day at Bank Petercam-Degroof and then all individuals can register to join us.
Do you have tips and tricks to share with other people with Parkinson's disease to deal with it daily, mentally and / or physically?
Be positive, never give up and keep moving every day.
We wish you an incredible amount of luck with this initiative, and we will be very happy to take a walk with you!
More info:
STOP PARKINSON vzw
Email:              hallo@stopparkinson.be
Website:          www.stopparkinson.be
Bank:               BE16 0689 3443 4874