The idea
'Magic, memorable moments' (those that stand out in our memory) often seem due to 'luck'. But they shouldn't be. Once you know the recipe of an 'enduring moment', you can create them yourself – and you can do so frequently. 
Who will like this book
Executives, high potentials, teachers, parents – anyone who wants to craft memorable moments that will have a lasting impact on others.   
What we like about the book
A very pragmatic and actionable approach
New insights (not 'another book on the same, usual topic')
Very well written, with numerous examples
With great summaries throughout the book
What you will learn in this book
The 4 typical components that help create a 'memorable moment' 
Elevation: make sure to rise above the routine – make the moment something 'special'
Insight: craft a novel experience or get people to think in a new way so they suddenly have an epiphany
Pride: introduce ways to massively recognize or commemorate people's achievements
Connection: nurture a spirit where people bond and have shared meaning
Defining moments possess at least one of the four elements above, but they need not have all four.
Extracts
"Research has found that in recalling an experience, we ignore most of what happened and focus instead on a few particular moments." 


"The point we're emphasizing here is that certain circumstances demand attention. And particularly in organizations, these circumstances tend to go unnoticed" 


"If you're looking to create memorable moments for your customers, you've got to break the script." 


"Action leads to insight more often than insight leads to action." 


"By multiplying milestones, we transform a long, amorphous race into one with many intermediate "finish lines." As we push through each one, we experience a burst of pride as well as a jolt of energy to charge toward the next one."

"If we can create the right kind of moment, relationships can change in an instant."
Don't hesitate to contact us if you want guidance in being an inspirational leader .
You can find The Power of Moments on Amazon and other online bookstores. Click on the image to shop: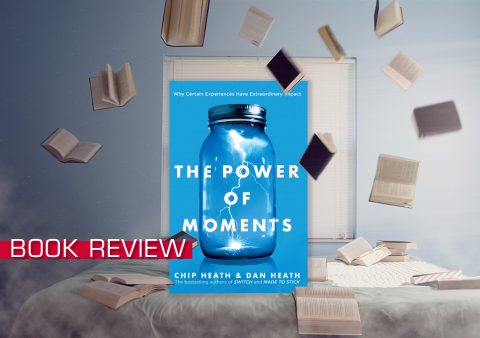 TITLE: The Power of Moments: Why Certain Experiences Have Extraordinary Impact
AUTHOR: Chip Heath and Dan Heath
Chip Heath is a professor at Stanford Graduate School of Business, teaching courses on strategy and organizations.
Dan Heath is a senior fellow at Duke University's CASE center, which supports entrepreneurs fighting for social good.
Chip and Dan (who are brothers) have already written a couple of bestsellers. 
PUBLISHER: Simon & Schuster, 320 pages (2017)