positivity culture & mindset
Your objectives
Create and nurture a positive environment where people thrive
Your situation: sounds familiar?
The leadership is very ambitious and strives for everybody's constructive collaboration in order to reach the company's aspirations
Some parts of the organization say they are constructive but are not necessarily perceived as such
Others (including some company leaders) are seen as 'naïve optimists, not seeing reality as it is'
There's an overall view that 'more and better' is possible…
Situation
Our client was a large mid-cap in a turbulent industry. When they contacted us, innovation, competition, and regulation were rapidly changing. The certainties of the past were gone. As a result, within the company, nervousness, negativism and defeat were on the rise. The CEO wanted to embrace this challenge in a positive and inclusive manner.
Approach
During the first phase of the program, efforts focused on the executive committee. The program was then cascaded to the next levels of the organisation. Demoucelle made sure to truly move people and inspire them. In addition, attendants received very specific and actionable tools to develop their positive leadership. They learned how to motivate and influence in a positive spirit. How to get skepticism in the open and confront it. And how to change unwelcome reactions for the better.
Result
The company atmosphere changed significantly. Employee engagement saw a steep rise. The company succeeded in enhancing its position vis-à-vis competition.
Our building blocks
Books & Booklets - Workshops - Programs - Assessments – Surveys - Boost Seminars - Trainings - Train-the-trainer - Coaching - Bonding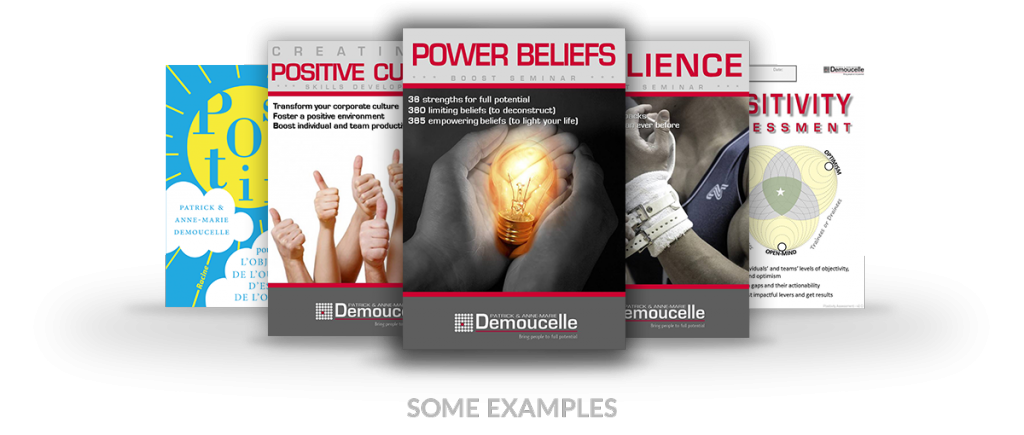 Enregistrer Enregistrer
Enregistrer
Our thoughts on Positive Culture & Mindset
HR Director mid-sized production company
"Our entire company has adopted the "positive culture" spirit which is really 'alive' in the organization. The spirit has really changed. The interactions with our unions for example have improved a lot thanks to what you brought us "