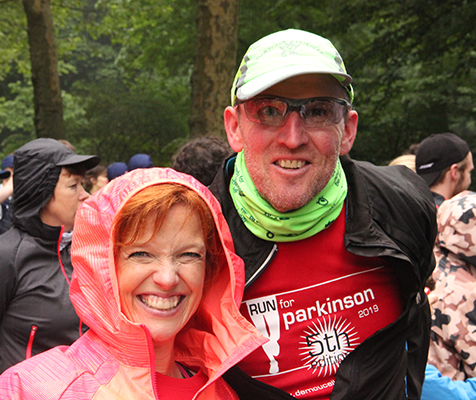 Who are you, Frank Willemsens?
I was a social guy who used to play football and I was married. I have 2 beautiful sons of 23 and 21 years old.
When were you diagnosed with Parkinson's disease, and what was it like?
9 years ago I was told that I had Parkinson's disease.
3 months before, my wife had died from skin cancer.
It was a double fight for me. On the one hand I was in the mourning of my wife. On the other hand I had to fight against the disease.
What was it like to let family, friends and colleagues know that you had Parkinson's disease?
That was strange, actually. Everyone said to me: "But you're not shaking?!".
For the first few months you couldn't really notice that I had Parkinson's. The medication did its job.
What do you hate most about the disease?
The fact that I have no control over my body. That I constantly go from 'on' to 'off'. That my body has become so slow, and that I have stiffness in my muscles.
What are the things you miss most?
As I said, I was a social guy who played a lot of football. I do miss the football and the social contacts at the moment. I've stopped working in the meantime – I miss that too.
What remains very positive in your life? What has become even better than before?
I notice that my character and my perseverance have become even stronger than before.
What life lessons do you learn from your experience with the disease?
I enjoy much more the little things in life.
You have been running with Run for Parkinson – with a lot of energy – an inspiration for all of us. Where do you get that energy?
It's really motivating for all Parkinson's patients to run the 20km of Brussels despite the disease.
I have run with Patrick [Demoucelle] this year. He is a source of inspiration for me. After all, he has had the disease for much longer than I have – and when I see him running, I think 'CHAPEAU' and 'RESPECT'.
A while ago you decided to undergo a surgical procedure, namely deep brain stimulation. How difficult was it to make that decision?
It was a risk for me but I knew it would make me better.
However, I didn't expect to have to undergo the surgery 3 times! I hadn't counted on that. After the second operation the DBS (Deep Brain Stimulation) was the best. I really had energy for 10! But a stupid infection made everything change – so they had to do the operation again. Now the DBS is okay, but it has less impact than after the second operation. That is a disappointment…
What was it like to undergo the operation?
It was hard to have such an operation. But at one point, you want to get better and then you're ready to do anything for it. It was mentally difficult, and it still is. Especially because it takes 1 year before the whole DBS functions properly. And that makes it heavy.
Despite the operation I still need a lot of medication. I hope that this will improve in the course of the year.
In any case, I will keep on running. I need that to clear my head. It is wonderful to run: at that moment, I forget the disease for a while…
Music that gives you a boost: All kind of dance music and rock music from the nineties and 2000s.
A place that calms you down: At home in my couch, I relax.
A quote that inspires you: Fight against this fucking Parkinson – Never give up.
A 'tip' for other patients: Keep moving and keep fighting against the disease.