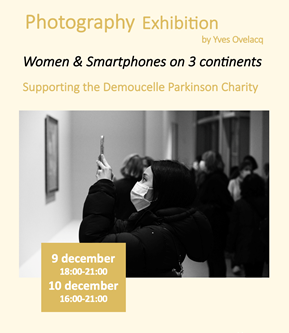 Yves Ovelacq, 55, is a consultant specialized in the fields of digital transformations and change management and a passionate amateur photographer. He has decided to exhibit and sell some of his favourite pictures in support of the Demoucelle Parkinson Charity and talks (below) about his love of photography and what has motivated him to support Parkinson's research.
The exhibition is open to anyone that would like to attend. RSVP by 6th December.
"Smartphone and Women on three continents"
Friday 9 December from 18:00 to 21:00
Saturday 10 December from 16:00 to 21:00
Location: Belle Barrus – Meeting & Event Room – Brusselstraat 125, 1702 Groot-Bijgaarden
Free parking on site (140 spaces available).

Please call us or send us an e-mail yves@addingvalue.be or via mobile: +32479/985.771
  O Yes, I will come on …. December 2022 with … persons
  O We are/are not hungry for tapas and a glass of wine
Please feel free to pass on this invitation to others who may be interested.
---
Can you tell us a little bit about yourself, your family and interests?
Yes, I have wonderful wife and three marvelous daughters who also support me in this (photography exhibition) project. My interests are quite diverse: photography, healthy cooking (and eating), philosophy and religion, writing and reading. 
How did you get into photography?
Through my family. My great-grandfather took photographs between 1851 and 1918. I recently digitalized his glass plate photographs. My father also photographed and developed in black & white and color. I remember spending time in the dark room with him and the pictures slowly appearing in the boxes with the developing products. At that time, I was more the assistant than the photographer. Nowadays my camera is more like the smartphone of women (the subject of his photo exhibition). I rarely leave it at home.
When do you consider something a 'good picture'? When are you satisfied with your own pictures? 
Of course, you have to have the right amount of light, composition, sharpness etc. But in addition to that there is the design or aesthetic aspect and the story the pictures tell. Finally, most important are the viewers. Do they like it or not? 
What made you decide to organize a photo exhibition to support Parkinson's research?
I was very touched by the Demoucelle family and their experience with Parkinson's disease, so I thought that putting on an exhibition (which has been on my bucket list for some time) to raise funds for the Demoucelle Parkinson Charity would be a good idea. Moreover, the charity is very professional and transparent.
What are you hoping to accomplish with this initiative?
My hope is that we reach our goal (although we have not set a financial target) to raise funds to accelerate research and give Parkinson's patients a better life. I think each of us should be grateful every morning when we wake up to enjoy a day without an illness such as Parkinson's. 
What makes this initiative 'special' for you? 
The unique people — Patrick and Anne-Marie Demoucelle — whose positive attitude is exceptionally inspiring; and the ability to combine one of my passions with a charitable cause.
What motto do you try to live by?
"Never wait." Life is short and waiting is one of the 7 wastes of the 'lean' principles. Saying 'I will do this or that later or when I am retired' is a dangerous assumption.