It's extraordinary what people will sign up for!!
There are so many organised events – particularly, but not limited to sports – that go on throughout the year and attract many participants. Running events (10k, half-marathons, marathons), cycling events, triathlons, endurance events (Iron-man, Marathon des Sables), rowing competitions, car rallies, office-based football leagues to name just a few!
If you are planning to take part in an organised event, please do consider combining it with support for the Demoucelle Parkinson Charity!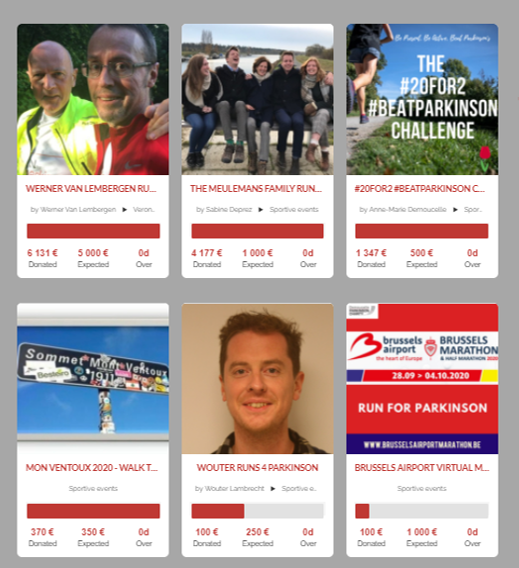 For many events of this kind it is possible to select a charity and ask your friends, family and colleagues to make a donation: either as a one-off 'gift' before, during or after the event, or as a sponsorship based on how well you do e.g. kilometres cycled etc.
This is easy to facilitate by using our personalised online fundraising platform. You don't have to collect or track the funds yourself. It is all taken care of, leaving you to simply enjoy the messages of support and a double sense of achievement!
All you need is a photograph or two, your personal details, some text to explain why you would like to support Parkinson's research i.e. your motivation; and a fundraising goal.  Then you can share the link via emails or on social media (and you can even include it in your email signature).
Here are some tips to help you motivate your friends, family and colleagues to support you:  
When you make your requests, give your potential donors some

example donations

that they could consider making e.g if you are running a marathon, ask for a donation of 1 euro per km. If some of your donors have the capacity to give more, suggest a donation of 5 euros per km. You might also point out that donations over 40€ are eligible for tax exemption.


Ask your donors to sponsor a particular km with a particular amount e.g. 50 euros to sponsor Kilometer 5, or Kilometer 14. If they do so, you can write their name on the shirt that you will wear on race day.


Ensure that when you first share the link to your online sponsorship page, there is already one (or even two) donations visible to get the ball rolling and encourage others to join in.


Host a fundraising event at your home or in your community e.g. a dinner or barbeque  (within Covid regulations, of course).


Send email reminders to those who have not yet donated, providing an update on your training or including a countdown to race day. Tie each ask to a certain training milestone; for example, if you make it halfway through your training schedule, if you cover the longest distance you've ever run/biked/etc., if you are one month away from race day, and so on. It helps to relate your asks to the efforts you are making to help speed a cure for Parkinson's.


Don't forget that to encourage your donors to check whether their employers might match their donation thereby doubling the charitable impact.
If you have any questions at all please do not hesitate to send us an email at info@demoucelle.com
---
Photos – Unsplash: Todd Quackenbus, Razvan Chisu, Massimo Sartiran, Markus Spiske, Jonathan Smith, Grant Durr