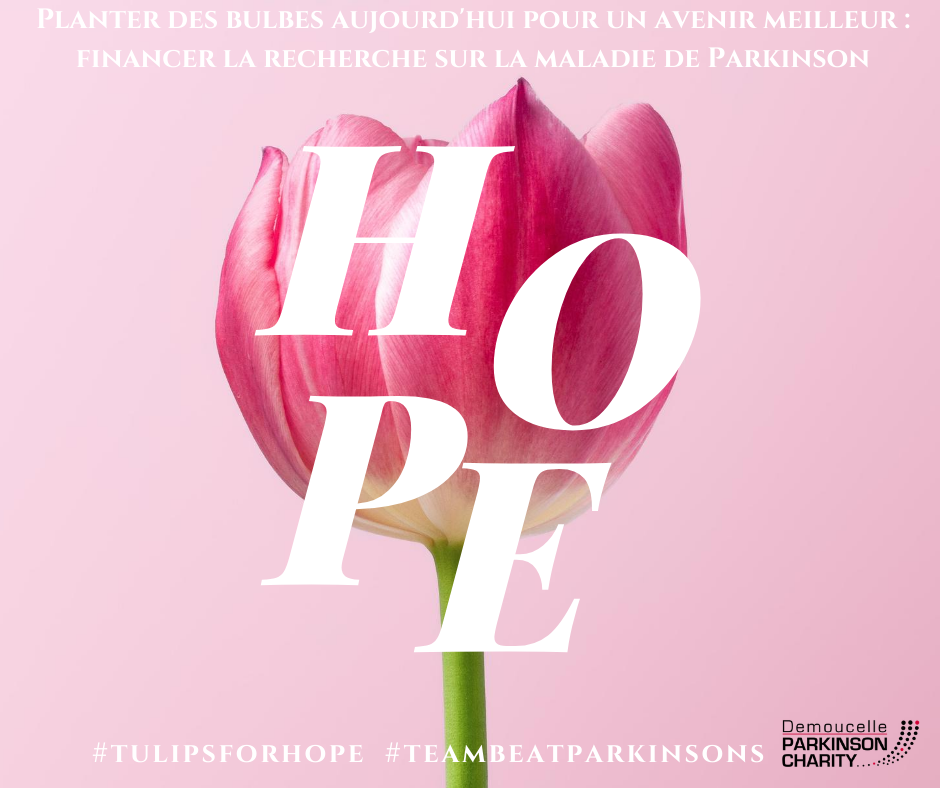 Isabelle, a Demoucelle Parkinson Charity volunteer, has come up with a wonderfully symbolic and simple way of raising funds to support research to find a cure for Parkinson's Disease. A passionate gardener, she proposes to sell tulip bulbs this autumn amongst her friends and family, and is looking for 24 other people to do the same.
Not only is a red tulip the international symbol of this neurodegenerative disease affecting 40,000 people in Belgian, but the fact that one has to plant the bulb a long time before one enjoys the flower is also highly symbolic of the importance of funding research today in order to find a cure in the future.
The tulips Isabelle has chosen are aptly named ''Triumph" and will produce colourful tulips around the time of the World Parkinson's Awareness Day on Sunday, April 11th .  
"I love to see tulips in my garden and containers in the spring. They bring real joy after a long winter and restore my sense of hope," Isabelle said. "I think people will really enjoy giving these bulbs as gifts to friends, or as dinner favours or planting them with their children and grandchildren."
Isabelle is looking for 24 volunteers to join her in this fundraising activity as she hopes to sell 10,000 bulbs this autumn and thereby raise around 7,000 euros.  Each volunteer would be asked to sell just 20 packets of bulbs at 15 euros each to their friends, family and colleagues. They would have the pre-packaged bulbs at their homes and be responsible for coordinating cash payments and delivery of the bulbs.
Details of the bulb packages are below.  If you would like to help Isabelle with her fundraising outreach, please don't hesitate to send an email to anne-marie@demoucelle.com.  And, of course, if you would like to buy some bulbs for yourself, please send your request along too!
THANK YOU!
Details :

1 packet of 20 ''Triumph'' tulip bulbs (size 10/11) – 15€
NOTE: If you buy 9 packets, the 10th will be free!
If you are interested in selling or buying some of these bulbs, please send an email to: anne-marie@demoucelle.com