Positif / Positief
The power of objectivity, openness and optimism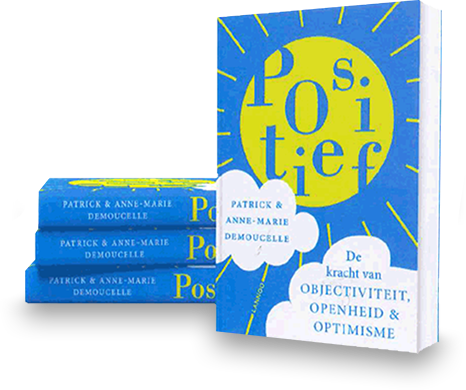 Positivism versus Parkinson 1-0
Our book is available!
In this book, you will discover the three basic skills that are essential if you really want to be positive in life: objectivity, openness and optimism. Based on our real life experience and our extensive review of scientific research, we share our recipe for becoming positive in life and at work, and for moving forward to reach your full potential.
"Patrick and Anne-Marie fully embody the POSITIVE way of thinking and are the best teachers of leveraging that approach in one's personal and professional life. They have become close friends, and with each phone call or meeting, I continue to learn from them how our Foundation can go deeper in applying objectivity, open-mindedness and optimism to be better at what we do. Our staff has grown through their teachings and, they continue to help us reach ever closer to realizing our full potential as individuals and as an organization. Each interaction with Anne-Marie and Patrick has been insightful and inspiring to me and I have no doubt that their POSITIVE approach will inspire countless others."
Todd Sherer, PhD
Chief Executive Officer
The Michael J. Fox Foundation for Parkinson's Research
Lire est un plaisir, Journal of Literary Columnists
"Clear, didactic and filled with numerous philosophical thoughts, specific examples, practical exercises, the essay puts the record straight about confidence in life."