Dust off the cobwebs and get the 'skeletons out of the closet'; imagine the future and set achievable goals; and then, create the roadmap, energy and enthusiasm to get there! All in three days.
This is, without fail, the transformational experience of our Openness, Visioning and Effectiveness (OV&E) seminars.   
Over the last 12 years, we have assisted many corporate boards and leadership teams in reviewing their current reality, examining the trends of the future and achieving alignment on how to position the business for profitable growth. It's a dynamic, energizing few days extremely well spent!
Executive committees of more than 100 Fortune 500 companies, midcaps, ONGs and PSFs across most industries have asked us to facilitate these OV&E seminars and our clients have all left the off-site gathering with a clear and united view of how to address and harness emerging trends affecting their business.
At this time of great change, we encourage you to consider taking the time to inhale, exhale and examine whether your company's current strategic plan is still fit for purpose. If so, then a clearing of air and an injection of energy will boost effectiveness. And, if not, then working collaboratively to develop a clear, shared vision will set you back on your way with renewed determination.
Below is the outline structure of the three-day OV&E seminar. It is truly unique and we promise that your business and you team will emerge united and ready to tackle the hard … and the exciting … challenges ahead! Do not hesitate to contact us if you would like to know more. We will work with you to design a tailor-made event.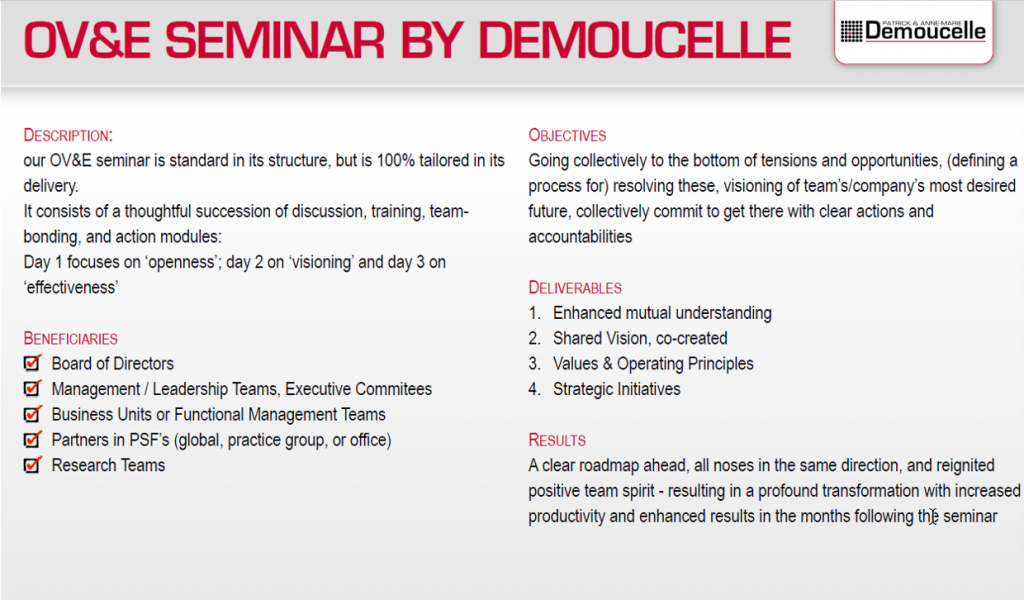 ---
To know more about why trends matter, click here.
To find out how to identify and stay on top of new trends, click here. 
To discover our top 36 Global Trends, click here. 
To download a .pdf infographic of our 36 Global Trends, click here.
To take our quiz to find out whether you are 'On-Trend', click here. 
---
Photos by Tomasz Frankowski, Markus Spiske, Chang Duong on Unsplash